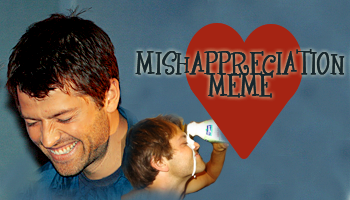 Graphic created by

hsapiens
I did one of these six months ago and it proved pretty popular so I figured as we're coming into the holidays it might be nice to do it again.
Misha does so much to make us smile and laugh so I thought it might be nice to gather all those happy feelings with each other so we can all bask in the love and joy that is Misha Collins.
So comment here with what you love about Misha. It can be a fan encounter if you've had one, favourite pics, videos, tweets, whatever you like. So long as it's something that makes you happy and that you think might make others smile too
It probably goes without saying but no negativity please. This is a happy meme designed to be a place of joy, sparkles and rainbows.
Pimp it: